It's hard to spot problems with your sewer line until it's too late. Luckily, there are a few signs that can clue you into issues with your sewer line installation in Vacaville, Bucktown, and Solano County, CA. Gurgling drains, backups, bad smells and more all indicate something's wrong below the surface. ABC Plumbing, Water Treatment, Filtration and Well Services can help you find out for sure and fix any problems before they get much worse.
Sewer Line Repair
Any number of problems could be affecting your sewer line. Root intrusions create blockages, calcification within the plumbing causes drains to back up, and more. These issues will put stress on your sewer line and require repair from a knowledgeable plumber.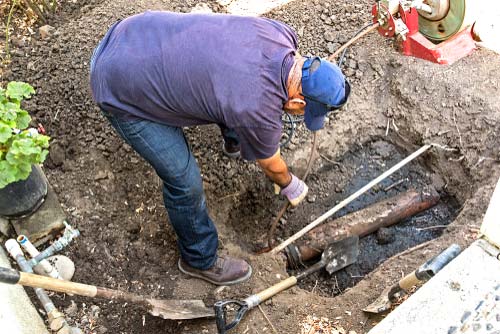 If an inspection of your sewer line yields a problem, count on us for thorough sewer line repair in Vacaville, CA. We're capable of providing traditional trenched-in sewer repairs, as well as trenchless repairs for smaller issues. We're equipped to solve the following types of sewer line problems:
Bellied pipes
Blockage
Broken, cracked or collapsed pipes
Corrosion
Leaking joints
Off-grade pipe
Root infiltration
Sewer Line Installation
If your sewer line is old or damaged extensively, a new sewer line installation in Vacaville, CA may be a good investment. We're equipped to trench-in new sewer lines, paving the way for more reliable drain function in your home and fewer plumbing problems in the long-run. When we're done, you'll have a reliable new sewer line and property that's minimally disturbed by our crew.
Use Your Drains with Confidence
If you've got a damaged sewer line or need to have your sewer lines replaced entirely, ABC Plumbing, Water Treatment, Filtration and Well Services can help. Let our team restore the integrity to your drains and plumbing, so everything that goes down, stays down. Contact us at (707) 452-1364 to schedule an appointment for drain inspection or sewer line repair. And don't forget to check out our other residential plumbing services, which include work on heaters, wells, water softeners, filtration systems, and gas lines.